Our Great Location & Guest Amenities
We are a half mile walk to the beach (.7 miles to the parking lot as shown on Google Maps but .5 miles to the beach entrance). Wells is a cozy, southern Maine village, nestled between Ogunquit and Kennebunkport but close by to sandy beaches and beautiful rocky shoreline. Wells offers something for everyone. We have one of the finest sandy beaches anywhere, a picturesque area of rocky coastline and outstanding restaurants, great shopping, art galleries, summer theater and much more.
Our property offers a quiet setting to relax, with places to picnic and read outside your room and around the grounds. Our swimming pool is centrally located to all guest rooms, and we offer free Wifi.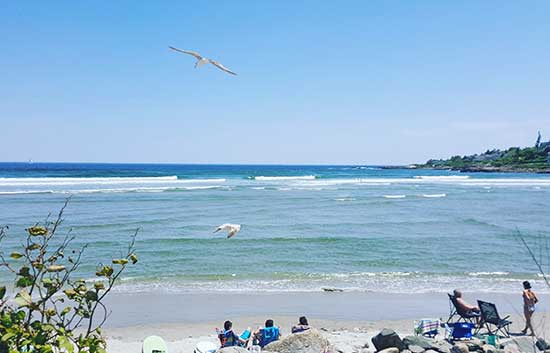 Wells beach is absolutely beautiful, with nine miles of white sand and natural dunes. Parking is limited so we recommend that you enjoy a ride on the Famous Trolley, letting you relax and enjoy the breathtaking sights Wells has to offer.
Close by in Ogunquit are many other natural treasures everyone is sure to enjoy. The Marginal Way is a mile and a quarter long foot path that follows the shoreline from just south of the center of village to Perkins Cove. This walk is one of the most spectacular places to enjoy views of the ocean and to watch the surf crashing against the rocks.
At the south end of the Marginal Way is Perkins Cove in Ogunquit, a quaint working harbor that has been home to artist from around the world nearly 100 years. Today Perkins Cove is a delightful mix of shops, galleries, restaurants, and home port for many fisherman. The Cove also serves as the departure point for charter fishing boats, sight-seeing cruises, and whale watching expeditions.
Wells has much to offer to those who love to explore. Offering beautiful sights, long walks, casual and fine dining. Next time you plan a vacation, take a trip to the Maine Seacoast. We hope to see you soon.